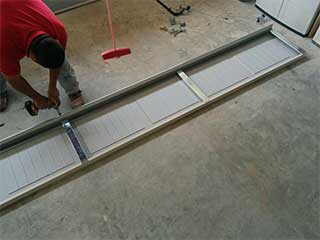 When your garage door breaks down, it's a huge inconvenience. We know how important it is to get your system working again quickly, so whether your opener has failed or your rollers need replacing, our team will get the problem solved as soon as they can.
Replacing Broken Springs
One of the most common issues to affect garage doors systems is worn-out springs. Over time, torsion and extension springs can weaken until they fail entirely. At this point, they'll snap and put your door out of action. Our technicians will safely disconnect the broken parts and replace them with new ones; we always carry spare parts with us, so we're ready to put things right then and there.
Opener And Electrical Repairs
Your overhead door system consists of many electrical components such as safety sensors and the opener itself. These can all develop faults, from frayed wiring to glitches in the circuit boards. Our expert technicians can identify and fix all of these issues.
Fixing Broken And Worn Rollers
If your rollers become corroded or damaged, they can prevent your door from moving smoothly along the track. In turn, this can lead to increased pressure on other parts of your door system – for this reason, it's essential to have any worn or broken rollers replaced quickly. Our technicians can remove and replace them on the spot, ensuring that your door runs smoothly again.
Dented Or Damaged Tracks
The tracks on your door can pick up dents more easily than you'd imagine. If there is considerable damage, your door may struggle to move easily as it moves up and down. Our technicians will remove these dents carefully, and check the rest of your system for signs of wear and tear at the same time.
Contact Our Technicians Today
If you're in need of professional garage door repair services, we're the right team for the job. For replacement openers, safety sensor adjustment, new door panels and more, contact our specialists at Garage Door Repair Pearland.
We Also Offer:
Roll up Garage Door Maintenance
Torsion Spring Replacements
Garage Door Remote Clickers